In a world where you can be anything, be kind!
Kindness is free! Let's sprinkle it everywhere like confetti!
Check out this beautiful sneak peek of what you can earn by hosting a jewelry bar in August. We have many dates available still in August for you to choose from. Contact us today to host. We can even do an online Facebook party or host it in-person. We have many wonderful options to suit your needs.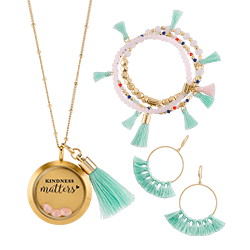 Retail Value: $124 USD | $158 CAD Hostess Exclusive Includes:
One (1) Gold Tassels Sub Pack – SP2162A
One (1) Gold Aqua Tassel Pendant – PN2003
One (1) Gold Aqua Tassel Hoop Earrings – ER1026
One (1) Trio of Gold Bead Bracelets with Tassels: 6 ¾ – BR6101
One (1) 28-30" Gold Ball Station Chain – CN6046
One (1) Large Gold Twist Living Locket™ Face – BZ4056
One (1) Large Gold Twist Living Locket Base – LK4003
Three (3) Rose Water Opal Round Swarovski® Crystal Charm – CH1835
One (1) Large Gold "Kindness Matters" Plate – Q1135